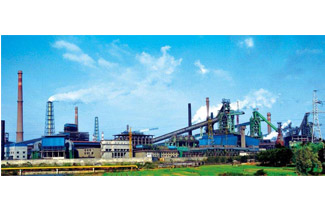 On December 31, 2019, after more than 180 days of intensive construction, Taiyuan Iron and Steel Co., Ltd.'s landmark project of "building a green development and upgrading version" - sintering flue gas ultra-low emission transformation project was completed. The completion of the project marks the completion of the whole process ultra-low emission transformation of TISCO one year in advance, and fully fulfills the commitment to the provincial and municipal governments and the public. In 2019, the total emission of major air pollutants of TISCO decreased by 50.6% compared with 2018.
The ultra-low emission transformation project of sintering flue gas of TISCO is a landmark project that TISCO promises to realize the ultra-low emission in an all-round way one year ahead of schedule to the provinces and cities. It is listed as a special transformation project of the "2 + 26" urban comprehensive air pollution treatment plan for autumn and winter 2019-2020 in Beijing, Tianjin, Hebei and surrounding areas.
The project was started on June 18, 2019. The process of "activated carbon desulfurization and denitrification + SCR selective catalytic reduction denitrification" was adopted, that is, on the basis of the existing activated carbon treatment unit, 50% adsorption unit was expanded in parallel and activated carbon analysis system and new SCR denitrification system were built, which can effectively achieve the ultra-low emission standards of particles, sulfur dioxide and nitrogen oxides for iron and steel enterprises It is the first in the world. In terms of layout design, the project fully optimizes the layout of process pipeline, keeps the original process pipeline and main equipment of the system to the maximum extent, and saves project investment and energy consumption for subsequent operation.
With the completion of the whole project, the project has entered the commissioning stage. In the next step, the project department will do a good job in the final work of the later period, run the new equipment well, be a good pacesetter of ultra-low emission of TISCO, and help TISCO achieve the goal of normal and stable operation of ultra-low emission throughout the year, and reduce the total pollutant emission by 70%.