Powering the world's modern infrastructure requires imagination to balance cost-efficiency, safety and reliability when it matters most. NobelClad uses several leading welding technologies and offers the largest collection of clad metal products anywhere in the world.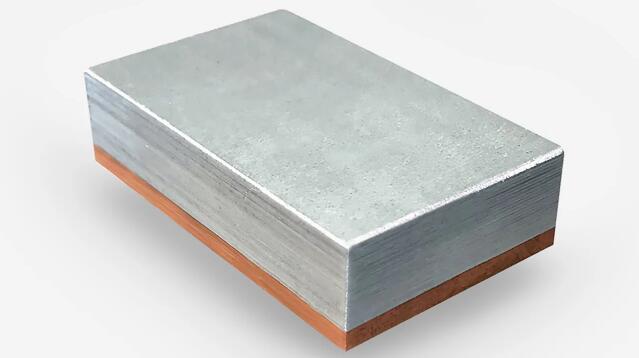 What is clad?
One of the first known industrial clad applications bonded nickel to carbon steel to construct railroad tank cars in the 1930s, allowing safer transport of caustic materials. Today, clad metals are used in many applications across critical global industries such as aerospace, chemical processing, oil & gas, mining, marine, transportation, solar, and high-speed rail—and clad metal uses keep expanding. The most common consumer use of clad is in cookware. The pots and pans you may find in your kitchen use aluminum and stainless steel to take advantages of the properties of both metals.
What it means when metal is cladded.
Clad metals are defined as two or more distinct metals or alloys—with very different properties—metallurgically bonded together to achieve functional benefits unachievable with a single metal. Almost any metal can be cladded, including alloys. End-use requirements such as corrosion- and abrasion-resistance or strength dictate which metals or alloys to use.
How to Clad?
Understanding how to clad, using several different processes—often with extreme pressure or heat to form the bond—allows clad suppliers to help industrial businesses unlock the desirable characteristics of more expensive metals with the cost-efficiency and protective qualities of others.
Common welding technologies include explosion welding, which joins metal plates together in a solid state while retaining each metal's mechanical, electrical and corrosion properties; roll bonding, which is a solid-state welding process that passes two or more metals through a pair of flat rollers to bond distinct metals; or welding overlay which melts a cladding layer onto the surface of a similar metal to form a stronger base material.
Clad metals most often consist of clad steel, which join steel or stainless steel with reactive metals and nickel, copper and aluminum alloys. Metal clad steel is then designed into cylinders, plates, tube sheets and transition joints used for products like heat exchangers, tanks, processing vessels, material-handling equipment, storage equipment and others.
Common Clad Materials
Some examples of common clad metal combinations and their many benefits include:
• Copper on steel helps promote electrical conductivity, corrosion resistance and facilitates soldering and is good for immersion heaters and electrical switch parts.
• Nickel on steel creates corrosion and erosion resistance for furnace parts, blowers and chemical equipment. It's more durable than electroplating.
• Titanium on carbon steel ensures high-temperature corrosion resistance, which is particularly desirable for mining operations.
• Silver on copper provides oxidation resistance to surface of conductors, for high-frequency electrical coils, conductors, and braiding.
• Gold on copper creates chemical resistance to a low-cost base metal for chemical processing equipment.
KLS Metal: A leader in Clad Metal
At KLS Metal, we are ready to work together with our customers, from specification through delivery and support. No matter what a customer turns to us for, whether it's explosion welding, roll bond or weld overlay, we test our metals to reassure them the material will work in their application.