KLS Stainless Steel Sheet Finish (According To ASTM 480).
No. 2D - A smooth, non-reflective cold-rolled annealed and pickled or descaled finish.
No. 2B - A smooth, moderately reflective cold-rolled annealed and pickled or descaled finish typically produced by imparting a final light cold-rolled pass using [large diameter] polished rolls.
Bright Annealed [BA] Finish- A smooth, bright, reflective finish typically produced by cold rolling followed by annealing in a protective atmosphere so as to prevent oxidation and scaling during annealing.
No. 3 Finish is characterized by short, coarse, parallel polishing lines, which extend uniformly along the length of the coil.
No.4 Finish is characterized by short, parallel polishing lines, which extend uniformly along the length of the coil. It is obtained by mechanically polishing a No. 3 finish with gradually finer abrasives.
No.7 Finish has a high degree of reflectivity and a mirror-like appearance. A No. 4 finish that has been polished to 320-grit is buffed for up to 10 minutes but existing grit lines are not removed. The remnants of fine polishing lines can generally seen by an observer standing several feet from a panel.
No.8 Finish It is produced in the same manner as the No. 7 finish except that the buffing is continued for an additional five to ten minutes. In comparison to a No. 7 finish, the grit lines are much less visible, but they can be seen if the finish is examined closely. The resulting finish is mirror-like but not a perfect mirror.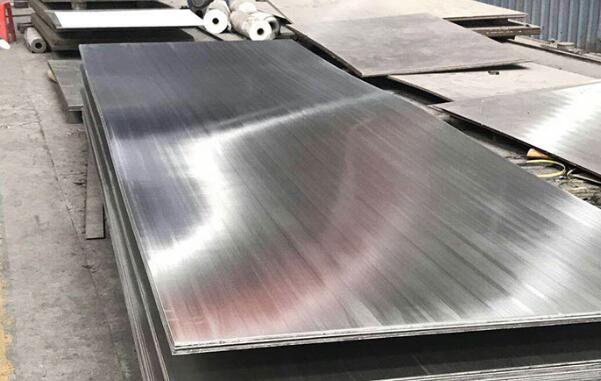 Applications
Stainless steel sheets are perfect for:
● Food handling and processing – surfaces and surrounds, such as counters and splashbacks
● Dairy processing plants and milking equipment
● Kitchen appliances and some cookware
● Hospital equipment and surfaces
● Marine hardware
● Kickplates for doors
● Restroom panels
● Other applications in which the strength of steel is required as well as resistance to corrosion
Despite the name, Stainless Steel can stain slightly over time, in particular (extreme) conditions. These include low-oxygen environments, and those in which there is a high level of salinity (such as constant exposure to seawater). This can be mitigated by regular cleaning and maintenance, and the alloy is significantly more resistant to damage in these conditions than other alternatives. However, in the vast majority of circumstances corrosion and staining should not be an issue. The Chromium content of the steel forms a light oxide film on the surface which prevents further oxidation in all but the harshest environments. This prevents corrosion from spreading to the inside of the sheet.
KLS Stainless Products is your premium supplier and processor of specialty stainless steel, high temperature stainless grades, corrosion resistant stainless grades and duplex materials — in multiple product forms. All stainless steel products can be cut to your exact requirements.
Email: carson@klsfh.com
If you have any questions, you can contact us.