In April 2nd, new Haixu, the world's largest suction dredger built by Jiangsu Haixin heavy industry heavy industry, set sail from Haimen, Jiangsu, and will travel to Saudi Arabia to serve the "one belt and one road" construction operation.
Captain Xinhaixu 138 m, 28 m wide, 8 m deep and 36 m deep, with a total installed power of 26100 kw, can dig 6,500 cubic meters per hour. It is equipped with heavy cutters, three dredging pumps, heavy steel pile trolleys and three cable positioning system, anchor throwing rods, barge loading system and Integrated Dredging monitoring system. It also has the strongest dredging capacity in the world, and can dig clay, compact sand and gravel. Non-self-propelled cutter suction dredging equipment for strong weathered rock and weak weathered rock.
It is reported that "New Haixu" was developed by Shanghai Jiaotong University, with the participation of the National Engineering Research Center of China Jiaotong Dredging, with the investment of Jiangsu Haihong Construction Engineering Co., Ltd. and the independent construction of Jiangsu Haixin Shipping Heavy Industry. The successful development of "New Haixu" is another new milestone in the independent research and manufacture of cutter suction dredging equipment. It also marks that China's large-scale cutter suction dredging equipment has reached the international leading level in general.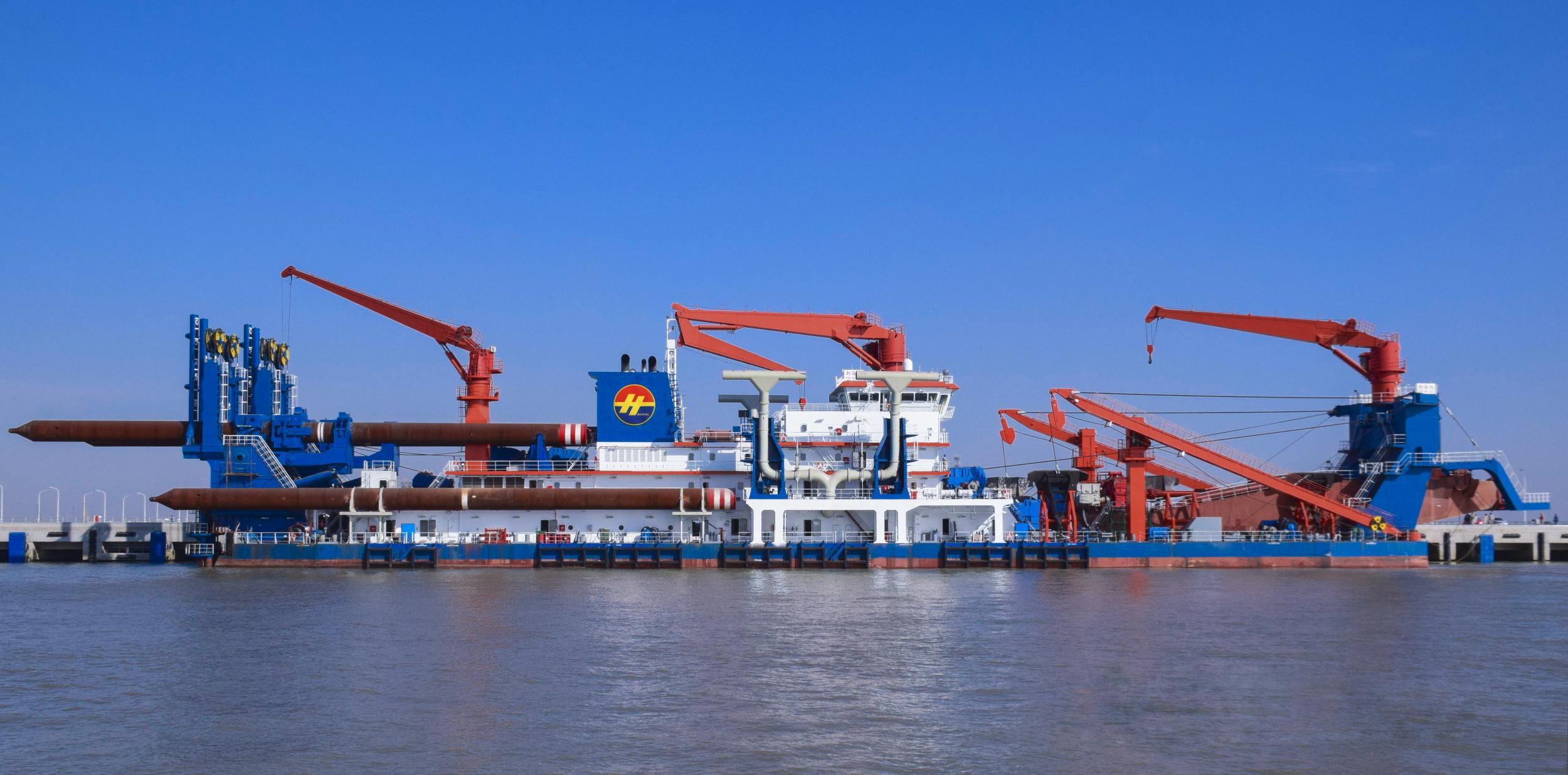 New Haixu will go to Jubail, Saudi Arabia's important port, to help build two artificial islands and carry out waterway dredging operations. It is expected that the construction period of two and a half years will double the production of high-quality light oil in the Saudi Berry Oilfield, to 500,000 barrels a day and produce about 90 million liters a day. The follow-up of "new Hai Xu" mainly involves dredging operations in the Middle East, mainly serving the countries along the belt and road.
It is understood that almost all large cutter suction dredgers abroad are designed and constructed in Europe. For non-self-propelled cutter suction dredgers, the Dutch IHC built Mashhour for Egypt's Suez Canal Authority in 1996 before the completion of "New Haixu" had the largest scale of main scale and total installed power. The Dutch IHC also built "Al Sakab" for Saudi Arabia's Huta Marine Engineering Company in 2010, although the total installed power ratio was "Mashhour". It is a little small, but it uses many modern design concepts and technologies, so it is very representative. By comparing with the main technical parameters of the large non-self-propelled cutter suction dredgers at home and abroad, the total installed power, cutter power and dredging pump power of "Xinhaixu" are much higher than those of the similar dredgers at home and abroad, and undoubtedly become the largest non-self-propelled heavy cutter suction dredger in the world.