Carbon Steel Material with Stainless Steel Cladding
The Carbon steel plate, bonded with the stainless steel plate on one or both sides produces a clad steel plate composite. The bonding of stainless steel with carbon steel provides not only an adequate strength but also the corrosion resistance to the metal.
The standard method of producing clad steel is by rolling-press cladding method. A metallurgical bond form between the carbon steel and stainless steel during heating and rolling.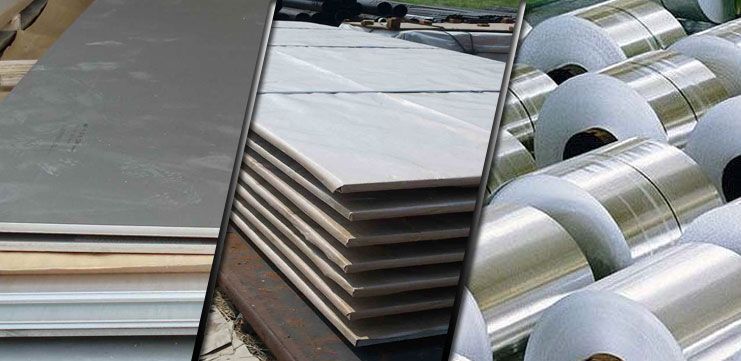 Stainless Steel Cladding Thickness
The thickness of the cladding is typically in the range of 1.5 to 5mm. Higher than 5mm cladding is possible. The cladding thickness of less than 1.5 mm is difficult. The cladding thickness of explosive bonding ranges from 1.5 mm to 2.5 cm.
The thickness of stainless steel varies from 50 to 50% of total thickness of the composite plate. For most of the purposes, the recommended thickness of stainless steel cladding is 3mm.
Duplex Stainless steel cladding
Duplex stainless steels are becoming more common due to their higher strength, greater corrosion resistance, and lower price. The principle of duplex steel manufacturing lies in the equal composition of ferrite and austenite in the steel. The equal balance of both results in higher strengths (400 to 550 MPa).
The thickness of the sheet can be reduced maintain the strength, therefore, can be used in the fabrication of vessels, storage tanks, structural units like bridges, hot water tanks, and process plants, etc. The duplex steel is corrosion resistant particularly very effective against stress corrosion.
The stainless steel has two essential elements i.e. ferritisers (Chromium, Silicon, Molybdenum, Tungsten, Titanium Niobium) and austenitisers (Copper, Manganese, Nickel, Carbon, Nitrogen) The grade 304 steel is austenitic due to the presence of 8% nickel.
Similarly, grade 430 is ferritic in structure due to the dominance of ferritisers. The equal composition of both austenitisers and ferritiserrs results in duplex structure.
Application of duplex steel for manufacturing of large structures and equipment may not be very cost effective. It is therefore recommended to use Carbon steel as a base material for fabrication and apply duplex steel cladding which will be more cost effective.
In some other cases such as pressure vessels containing chlorine more than 45ppm concentration will affect the 304 and 316 grade steel, while duplex steel cladding shows much better resistance to stress corrosion cracking. Similarly for strongly oxidizing acids (Nitric acid) duplex steel cladding of LDX 2102 & 2304 is very effective.
The corrosion resistance of duplex steel can be measured in Pitting Resistance Equivalent Number (PERN). Higher the PERN number higher the corrosion resistance of the metal. PERN can be calculates using following formula:
PERN = %Cr + 3.3 x 16 x%N
The PERN number of duplex steel are comparable with some ferritic and austenitic grades. Such as duplex steel RDN-903 has PERN value of 22, DX2202 has 27, 2205 has 35, and 2507 has 43. The standard austenitic steels such as 304 and 316 are highly susceptible to stress corrosion cracking while duplex steel shows better corrosion resistance. Therefore duplex steels can be used at high temperatures in many of the applications.
Duplex steels are of high strength, has moderate weldability and the wide range of corrosion resistance but there are some limitations. The high strength of duplex steel is a disadvantage when considering the machinability and formability options. The duplex steel is less ductile when compared to austenitic grades.
Stainless steel cladding process & Application
There are various processes available for carbon steel cladding such as hot roll bonding, cold roll bonding, explosive bonding, brazing, weld cladding, weld overlays and centrifugal casting.
Hot roll bonding is the general process used. In this process the clean plates of carbon steel and stainless steel are placed on each other, (single side cladding), or sandwiched between two stainless steel plates (double side cladding). The composite plates are hot rolled together.
Stainless steel cladding process results bonding between the two metals. Another method of manufacturing includes explosive bonding. The bonding is produced by plastic deformation of metals because of intense collision during explosive bonding. Sometimes explosive bonding is followed by the hot rolling process to improve the bond between carbon steel and stainless steel.
Clad carbon steel is used in the variety of applications such as chemical processes, oil refining, offshore oil production, etc. It is also used in power generation units, where there are high temperature and stress corrosion.