Definition of roll-bonded clad plates
● Metallurgically bonded composite of two or more layers
● The bond is created by high temperature and high pressure
● Typical combination is a thin corrosion resistant alloy (CRA) as clad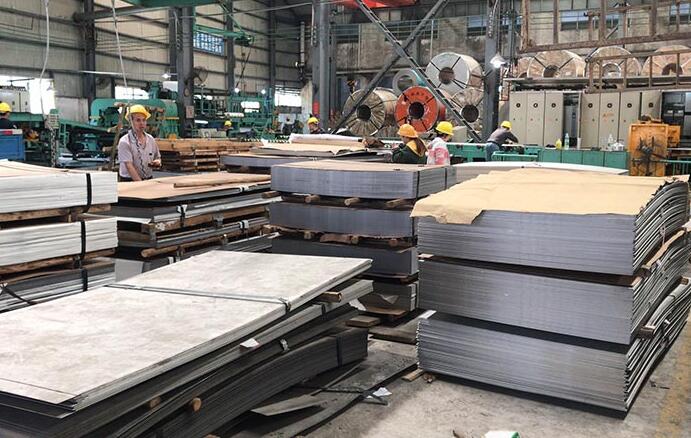 Advantages of roll-bonded clad plates
Advantages compared with solid CRA plates:
— Reduced material costs
— Less weight due to reduction of wall thicknesses
— Reduction of weld length due to larger dimensions
— Lower cost of filler metal– Superior heat conductivity


Advantages compared with overlay welding:
— Improved surface conditions
— No dilution from the base material
— Homogenous chemical composition
Advantages compared with explosive cladding:
— Higher bonding quality
— Reduction of weld length due to larger dimensions
— Use of thinner clad material is possible
Advantages compared with rubber coatings and linings:
— Metallic bonding
— Lower maintenance costs
Clad plates for clad pipes
We offer clad plates for clad pipes used in high-demanding projects in the offshore industry.

● Pipelines layed by reeling
● Catenary riser pipes
● Process pipes in refineries
● Bends and fittings
High-strength clad plates
The strength of a clad steel plate is mainly determined by the strength of the base material. By using a higher-strength base material the plate thickness of a given component can be reduced. This leads to reduction of steel weight and furthermore to cost saving of processing – in particular for wel-ding – transport and assembly. High-strength clad plates provide economic benefits in evaporator shells of thermal desalination plants.
Heat treatment
Based on the chemical composition the mechanical-technological properties of the base material as well as the corrosion properties of the clad material are adjusted by production route and proper heat treatment.
● As rolled with simulated testing
● Normalizing rolled
● Normalized (furnace)Normalized and tempered
● Quenched and tempered
● Thermo mechanically rolled and accelerated cooled (TMCP)
Surface finish for Clad Plates
The surface of the base material is normally "as rolled"or shot blasted. The surface of the clad material is normally ground with a grain size of 80. Other grain sizes are available on request. Any additional future surface treatment (e.g. fine grinding) of the clad surface by the costumer must be indicated at ordering.
Cutting Roll Bonded Clad plates
Roll-bonded clad plates are best cut using plasma torches. This cutting process provides clean cut edges which are prepared for subsequent welding by simply removing the oxide skin. Note: The plasma cut is always performed from the clad side.
Cold forming Clad Plates
Cold forming of roll-bonded clad plates is possible by applying the following techniques:
● Bending
● Pressing
● Dishing
● Rolling
Clean surfaces of the cladding and tools are of great importance in all forming processes. Roll-bonded clad plates provide excellent forming behavior. The material-specific properties must be taken into account, particularly in the case of stainless ferritic claddings.
Hot forming Clad Plates
Roll-bonded clad plates are formed in accordance with accepted technologies and by taking into consideration the cladding material. The surfaces of the cladding materials must be free of contaminations like grease, oil, marking colors etc. in order to prevent carburisation. It is very important to obtain an atmosphere with low sulphur content. In some cases heat treatment is required after hot forming. High-alloy claddings can only achieve their optimum corrosion resistance by means of special temperature controls.
To avoid corrosion, the surface of the cladding material must be cleaned after the last processing step. Oxide skins, annealing colors, welding spatters, any scratches resulting from ferrous materials, marks, rust from external sources etc. must be removed.
Contact KLS Metal Clad Materials Company today for a competitive quotation of Clad Steel Plates and Roll Bonded Clad Steel Plates.