The 13th South China Stainless Steel and Metal Material Exhibition, which was co-sponsored by Guangdong Stainless Steel Material and Products Association, Foshan City Committee of China Council for the Promotion of International Trade and Foshan Chengzhan Exhibition Service Co., Ltd., was held in the Flower World Exhibition Center of Shunde Chen Village, Foshan City from April 21 to 23.
This exhibition basically runs through the stainless steel industry chain, a number of brand manufacturers will show "muscle" and "competition" on the same stage. At that time, a batch of high-quality new products with high "face value" and "temperament" will be presented; a batch of intelligent, automated, high-precision new equipment and high-quality matching products will also be displayed. The participating enterprises will display their brand image, fist products, service systems and solutions, and invite you to visit and purchase.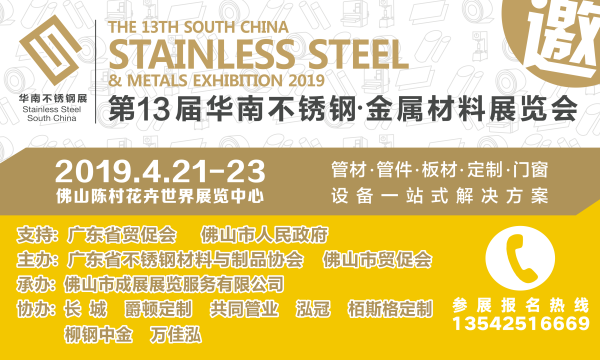 Main exhibits:

Pipes: stainless steel decorative pipes, color pipes, European pipes, pattern pipes; stainless steel pipes, fluid pipes, gas pipes and fittings; stainless steel products pipes, large pipes, thick pipes, special-shaped pipes; stainless steel industrial welded pipes, etc.

Plate: stainless steel decorative plate (color plate, grinding plate, mirror panel, titanium plate, elevator plate, etc.); stainless steel cold (hot) rolled strip, medium and heavy plate.

Customization: stainless steel courtyard doors, entrance doors, fence guard windows, staircase handrails, screen partitions, etc. Hardware accessories.

Matching: Laser tube cutting machine, heat treatment equipment; automatic tube packaging equipment, intelligent plate handling equipment; testing instruments, packaging materials, pipe moulds, cutting tools, etc.

Our company provides China Metal Clad Sheet. Welcome to contact us.